Truffled cauliflower puree with mushrooms and sage butter – creamy and delicious dish, infused with the earthly aroma of truffles and sage, topped with an oozy egg, and freshly grated Parmesan cheese.
Hello friends, and hello fall!
Do you feel the fall vibes already?
We certainly did have our first taste of fall last week, right on cue, with chilly mornings and windy afternoons, and it wasn't much fun.  Luckily this week, we're back to our typical hot, Indian summer here in the Bay area, so all is well.
Unlike most people who anticipate the upcoming season with so much excitement (including my kids who can't wait to put on their warm sweaters), I'm not eager to start cocooning just yet.  Cold makes me inert, and I don't like that.  But the more I see the bright orange pumpkins, the more I sniff the cinnamon-scented pine cones, and pumpkin-spiced goodies, the more I come around.
No better way to ease into the season, than cook a nice, cozy meal, and this one is the perfect start.  It's a quick and easy recipe for truffled cauliflower, whipped into a smooth puree, topped with sauteed mushrooms, and drizzled with browned, sage butter.  I tucked in an oozy poached egg (because it's just the perfect complement to this creamy goodness), and showered the whole dish with a generous shaving of Parmesan cheese.  The keyword though, is truffled!  It's the subtle, earthy aroma of truffle oil that ties it all together into a luscious, mouthwatering meal.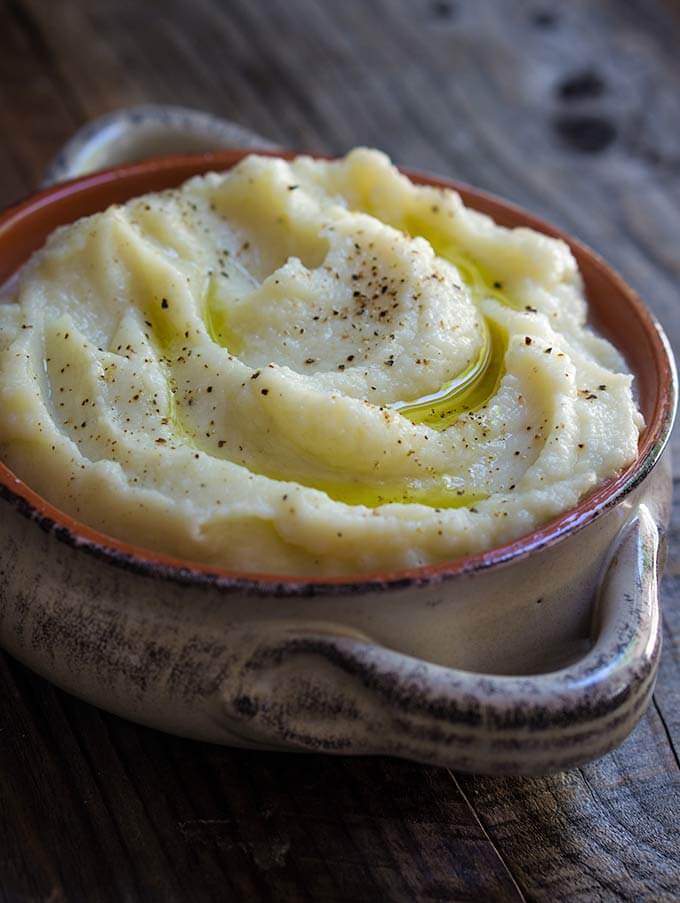 The whole combination couldn't be simpler, and I liked it so much, I made it again this week.  You can certainly multi-task and prepare the different components simultaneously.  You can even make the mushrooms in advance if you like.  To poach the eggs, you can try Jamie Oliver's trick with plastic wrap.  It works so much better than any other that I've tried, and results in a tighter, neater egg parcel.  You simply line a small bowl with a big piece of plastic wrap, rub some oil on it, crack an egg, and twist the plastic wrap ends together as close to the egg as possible (tie a knot if you can).  Cook the foil-wrapped egg in simmering water for 4 minutes, making sure it's fully submerged, then cut the wrap and you've got the perfectly shaped, tender, poached egg with a creamy, runny interior.
The whole meal comes together in just about 30 minutes, so even if you're not feeling up to the task of cooking, it will be over before you know it, and it will be so rewarding, I promise.
Truffled Cauliflower puree with sauteed mushrooms and sage butter
Truffled cauliflower puree with mushrooms and sage butter - creamy and delicious dish, infused with the earthly aroma of truffles and sage, and topped with an oozy egg.
Ingredients
1

medium cauliflower head, cut into florets

1

garlic clove

2

Tbs

truffle oil

2

Tbs

Parmesan cheese

(plus more for topping)

1/2

lbs

mushrooms of choice, sliced

(I used nameko)

2

Tbs

olive oil

2

Tbs

butter

10-12

sage leaves

2

eggs
Instructions
Bring a pot of salted water to a boil. Add the cauliflower florets and cook for 15-20 minutes, until tender.

Meanwhile, sautee the mushrooms in a little bit of olive oil, salt and pepper. Remove from heat, and keep in a warm place.

Drain the cauliflower well. In a food processor, add the cooked cauliflower, the garlic clove, truffle oil, Parmesan cheese, and salt and black pepper to taste. Process until creamy, taste and adjust seasoning if needed.

Just before serving, melt the butter and cook until it browns slightly. Add the sage leaves and quickly fry them.

Assemble the dish by dividing the cauliflower puree evenly among two plates, top with the sauteed mushrooms, drizzle with the sage butter, and place a poached egg on top. Sprinkle some freshly grated Parmesan cheese, and don't forget to add the crunchy sage leaves too.