Stuffed pumpkin with bacon, leeks, and scallops, smothered in cheesy bechamel sauce, and a touch of cinnamon! Try this festive Thanksgiving recipe that's not only a feast for your eyes but it's super delicious too!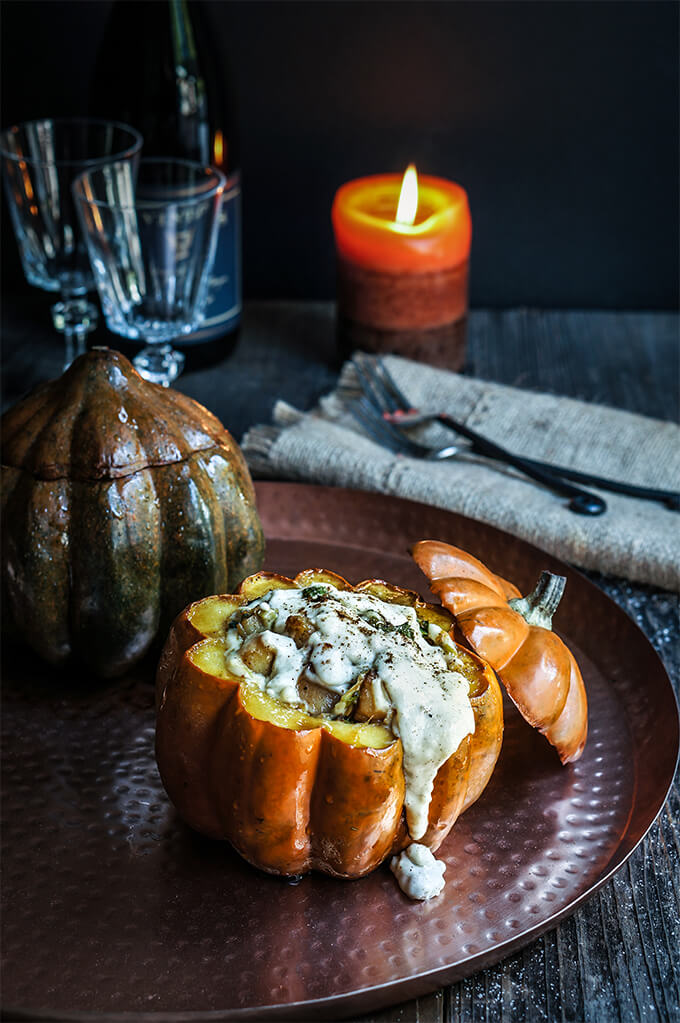 I know it's been a pumpkin cornucopia here on this blog, and I promise I will try to restrict myself from posting more squash recipes (for awhile at least).   But the squashes and pumpkins are so inspirational and versatile – they simply present endless opportunities for cooking so it's hard for me to resist.  Especially with three days before Thanksgiving, I have pumpkin on my mind for sure, and I'm thinking 'stuffed pumpkin'!  It may very well steal the show from the turkey, the way this stuffed pumpkin looks.   It's a feast for the eyes, and a feast for your bellies!
Really, any pumpkin will look good stuffed but the ones that have bulging ridges, have a flower-like appearance when cut crosswise, so I tend to favor them more for stuffing.  I used a couple of acorn squashes here.  If you choose to stuff a bigger or different variety, feel free to adjust the quantity of the stuffing, depending on your pumpkin size.  The recipe is more like an idea, and it's very forgiving – if you end up using a little more of this, and a little less of that, you will still have a great result!
There are tons of different ways to stuff a pumpkin, and you are only limited by your imagination.  I'm going a little off the beaten path here with this seafood version but if you like seafood as much as I do, you will love this recipe.  I chose scallops as they are mild in flavor, and hold well their texture when cooked.  And what better companion for the scallops than smoky bacon, and sweet creamy leeks.  To round things off, I topped it all with a cheesy bechamel sauce! There is a touch of cinnamon in the sauce which plays nicely against the smoky bacon, and sweet leek-squash-scallop goodness.
The whole meal comes together in about 40 minutes or so – not so bad considering it's a special occasion meal.
Happy Thanksgiving!
Stuffed Pumpkin with Bacon, Leeks and Scallops
Stuffed pumpkin with bacon, leeks, and scallops, smothered in cheesy bechamel sauce, and a touch of cinnamon!
Ingredients
2

acorn squashes

1

lbs

scallops

6

cups

of chopped leeks

(from 2-3 leeks)

4

pieces

of bacon, chopped

4

tbs

of brown sugar

salt + pepper to taste

2

tbs

flour

2

tbs

butter

1 1/2

cups

milk

1/4

cups

Gruyere cheese shredded

pinch

of cinnamon

pinch

of nutmeg
Instructions
Wash squash and cut out the caps. Remove seeds and strings.

Sprinkle each squash with 2 tbs of brown sugar, replace caps, and roast at 400°F for 30-40 minutes until the squashes are soft, but still holding their shape.

Meanwhile, saute half the bacon with the leeks for 10-15 minutes until softened. Remove to a plate.

Add the other half of bacon, and scallops to the same pan, sprinkle with salt and pepper, and cook for another 6-7 minutes. Mix with the leeks.

In a pan, melt 2 tbs butter, add the 2 tbs of flour, and stir for a couple of minutes. Slowly add the milk, 1/4 cup at a time until you get a smooth sauce. Add a good pinch of cinnamon and nutmeg, salt and pepper to taste.

Add the shredded cheese and cook the sauce for another 1-2 minutes.

Mix half of the sauce with the leeks and scallops mixture, and reserve the other half for serving.

Remove the squash from the oven, and fill with the stuffing. Put the cap on and return to the oven for another 5-10 minutes.

Serve with the rest of the sauce poured over it.
Recipe Notes
Notes: If you serve this as an appetizer or side dish, it can serve 8-10 people. If you serve it as a main dish, you get about 4 servings.