Chicken scallopini with mushrooms and artichokes – this is simply the most delicious chicken scallopini: sautéed mushrooms and artichokes, pancetta and tangy capers in luscious, lemon butter sauce – simply divine!
I've been excited to try new recipes and post the best here, and I've forgotten about tried and true gems like this one – chicken scallopini with mushrooms and artichokes, smoky pancetta, tangy capers and luscious lemon butter sauce! Just the ingredients list should be enough for you to start drooling, but let me just reiterate – this dish is simply divine! It won't be a stretch if I say that this is my favorite chicken recipe.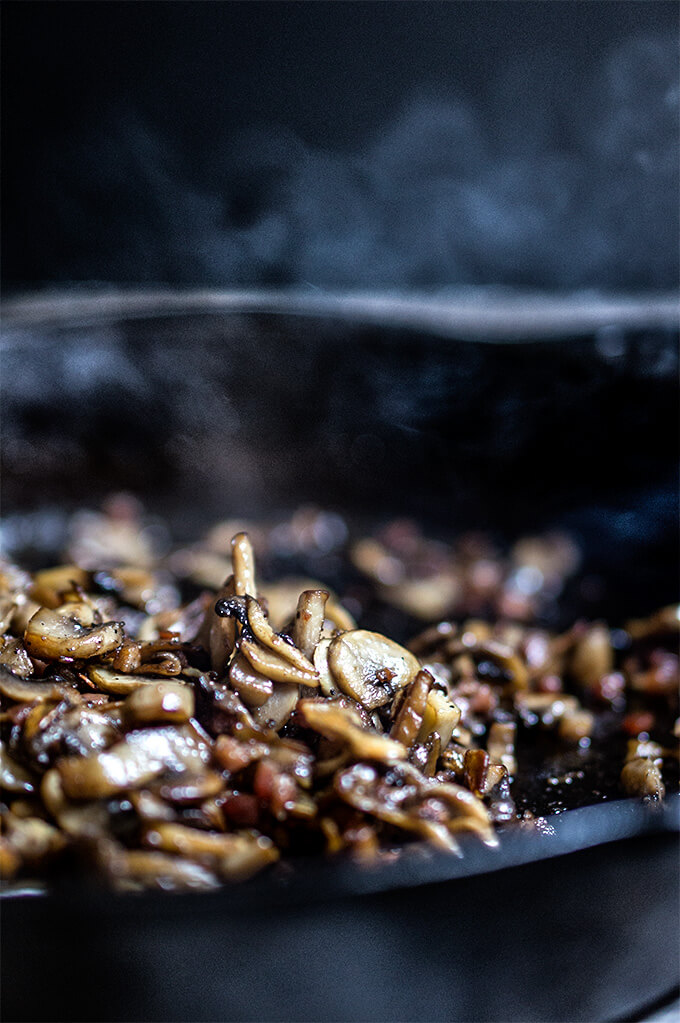 It was inspired by a dish I ate at Romano's Macaroni Grill restaurant, back in the day, when the waiters sang Italian opera to honor their guests' birthdays, the chef would come out occasionally to a round of applause, and the whole vibe was reminiscent of a big Italian family get together. Sadly, that restaurant, despite its popularity, closed down long time ago in our area, but their superb chicken scallopini is the one dish that stands out high and above all the rest (along with their unforgettable fresh out-of-the-oven rosemary bread).
I loved it so much back then and had to have the recipe. I didn't have to search much, as this is apparently one of the most requested copycat recipes ever. Over the years I have adapted the original recipe to my taste and I've made it much lighter (it really doesn't need one pound of butter in addition to the cream). I've tried it with frozen artichoke hearts, canned ones, and marinated ones, and it turns out fantastic every time!
There is no way to go wrong with these ingredients. The only thing that can go wrong, is the lemon butter sauce. The trick is to taste and adjust to your liking as you make it. The version I offer here uses partly chicken broth, and partly cream, way less butter, and results in a perfectly balanced, creamy, lemony flavor. If I use marinated artichokes, I reduce the amount of lemon to just a splash – the result is just as great!
Serve it over angel hair pasta (spinach angel hair featured here), or as is, with crusty bread, and you have a substantial, satisfying, and insanely delicious dinner in under an hour.
Other meat recipes you might like:
This no-fuss, super simple but delicious 2-ingredient chicken paprika often makes it to our table when I don't have much time to spend in the kitchen.
Who doesn't need more chocolate in their lives?  This chocolate hazelnut chicken mole is another excuse to indulge in it.
Or, for a fancy and impressive meat appetizer, try these super yummy steak bites with blue cheese butter !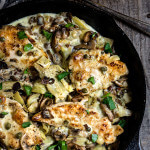 Chicken scallopini with mushrooms and artichokes
Chicken scallopini with mushrooms and artichokes - sauteed mushrooms and artichokes, smoky pancetta and tangy capers in a luscious lemon butter sauce.
Ingredients
1

lbs

mushrooms

sliced

12

oz

artichoke hearts - frozen or canned

3

oz

pancetta

2

Tbs

capers

2

chicken breasts

butterflied if needed, and pounded thin

3-4

tbs

flour for dredging the chicken

salt and pepper to taste

2

tbs

avocado/grapeseed oil for frying the chicken + 2 tbs for sauteing the mushrooms

For the lemon butter sauce:

1/4

cup

lemon juice

2

tbs

white wine

1/2

cup

cream

1/2

cup

chicken broth

1

tsp

corn starch

3

tbs

butter

salt and pepper
Instructions
Heat a pan on the stove top, and add the pancetta - cook until browned and crisp.

To the same pan, add the mushrooms, and 1 tbs of oil if needed. Season with salt and black pepper, and saute until mushrooms are fully cooked - about 8-10 minutes.

Slice the artichoke hearts into quarters and add to the pan with the mushrooms.

Add the capers, and cook for a few more minutes.

Butterfly the chicken breasts if they are quite thick, or simply pound them to flatten to 1/4 inch thickness. (I like to put the chicken in a zip lock, one piece at a time, and completely seal it, before I flatten it with a meat mallet). Cut the flattened chicken into smaller pieces, sprinkle with salt and pepper, and dredge in flour lightly.

In another pan, heat the remaining 2 tbs of oil, and fry the chicken pieces, approximately 3 minutes per side. Add cooked chicken to the mushrooms and artichokes.

Make the sauce by heating the lemon juice and white wine, and boil until reduced by a third.

Add cream and cook until slightly thickened. Mix 1 tsp corn starch with a bit of chicken broth, to remove lumps, and add to the pan, with the remaining chicken broth. Cook until sauce thickens.

Add butter to the sauce slowly incorporating it, by whisking. Taste and adjust the salt and pepper. If too sour, add more chicken broth and corn starch.
Recipe Notes
1. You can make this with marinated artichokes with the same great result. If you do, make sure you add less lemon - only a splash, so you don't end up with quite sour sauce.

2. The sauce in this recipe is a little less than 1 1/2 cups. If you like your meal saucier, double the amounts.