Oven-fried zucchini crisps with garlic yogurt dip – this is a fantastic summer finger food, quick and easy to make, and so delicious you need to triple the recipe!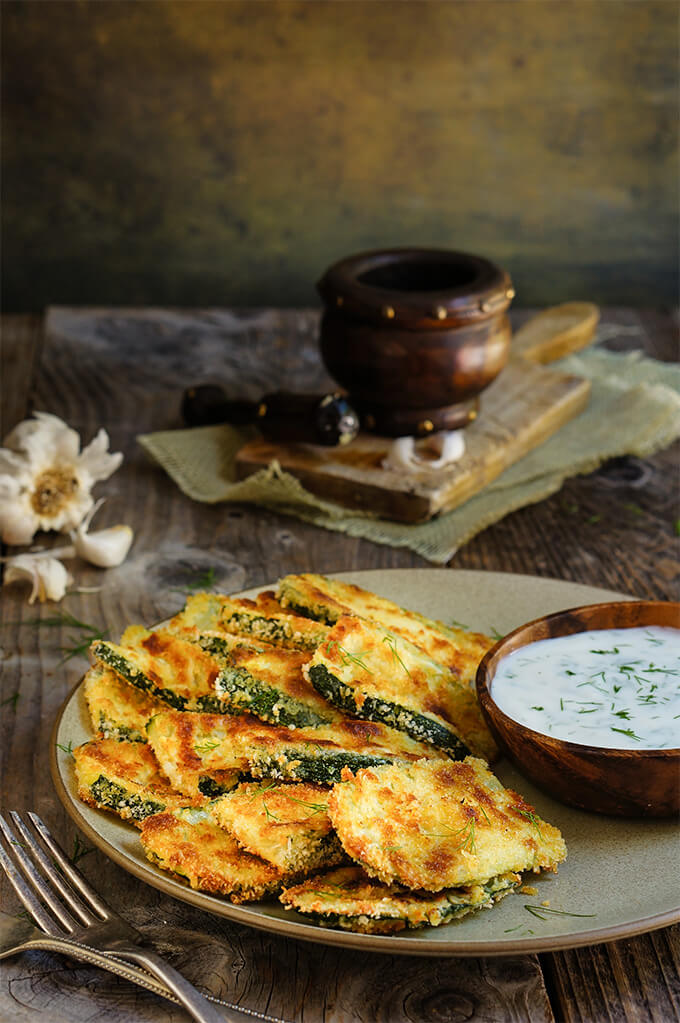 One of my all time favorite summer dishes is fried zucchini. It's a traditional Bulgarian meal, that we often had in the summer, and we devoured insane amounts, until we fell into a food coma. It's pure comfort food!
The zucchini of my childhood are cut into thin circles, sprinkled with flour, and pan fried till they are golden and crispy. Prepared this way, and served with creamy cold garlic yogurt sauce, they are dangerously addictive, and so delicious you are guaranteed to eat till your stomach threatens to burst.
This is one of a few dishes, that I beg my mom to make me when I visit my home country. She gladly obeys, meticulously frying each round thin on both sides, till it's perfect. It's also one of those dishes, that I now shy away from, simply because I don't have the time to slave at the stove for a long hour or so, frying endless batches of zucchini.
On our recent trip to Bulgaria, I discovered a faster, and much better way to prepare my favorite dish. Instead of frying the zucchini, you bake them, and to achieve the crispy skin you get from frying, you give them an egg wash, and dip them in breadcrumbs, then roast in the oven for half hour. The result is as delicious, and amazing as the original fried version but healthier and less laborious.
It wasn't an entirely new concept to me of course. I've made zucchini sticks in the oven numerous times before, but with mediocre results – they do not cook evenly, and do not crisp up enough.  With a couple of minor tweaks, and tricks, however, they turned out fantastic, and were a breeze to make. First, by cutting the zucchini into broader strips, as opposed to zucchini triangles (sticks), you have more surface to crisp up, and the thickness is even so they cook better. Second, by using an egg dip, and then breading the strips, you guarantee the breadcrumbs will stick better, and create that amazing crunch. Finally, and this is important, you need to use a good amount of oil, to achieve great results. Liberally oil the baking sheet before laying the zucchini strips, and don't forget to drizzle a good amount of olive oil on top of the zucchini before you put them in the oven. This will guarantee you juicy, and crunchy fries.
The perfection will not be complete without that awesome garlic yogurt sauce. I cannot think of anything that goes better with zucchini than this sauce. It's simplicity, it's genius, and it's something I recommend using on all kinds of oven baked veggies, like eggplant, green beans, sunchokes, etc. Do not skip it!
I'd also recommend doubling the recipe, and serving the zucchini as a main course!
Oven-fried zucchini crisps with garlic yogurt dip
Oven-fried zucchini crisps with garlic yogurt dip - this is a fantastic summer finger food, quick and easy to make, and so delicious you need to triple the recipe!
Course:
Appetizer / Main dish
Ingredients
8

zucchini

8

Tbs

flour

3-4

eggs

2

cups

bread crumbs

4

tsp

garlic powder

2

cups

yogurt

4

garlic cloves

6

Tbs

olive oil

chopped dill

optional

salt
Instructions
Preheat oven to 400 °F

Cut zucchini in half cross-wise, then cut each half lengthwise into 1/4" thick slices. Season with salt.

Line 3 or 4 baking sheets with parchment paper, and brush 1 Tbs of olive oil on each, spreading it well to the edges.

Put flower, mixed with garlic powder, and a few pinches of salt into a shallow dish.

Put breadcrumbs into another shallow dish.

Beat eggs with a bit of salt and place in a wide bowl.

Dip each zucchini strip into the flower, and dust off the excess, then dip in the eggs, and finally lightly press in the breadcrumbs.

Arrange zucchini strips over the oiled paper, in a single layer. Sprinkle with more salt, and drizzle with the remaining oil (about 1 Tbs per tray or more).

Bake at 400 °F for about 25-30 minutes, flipping them once half way through.

Meanwhile make the sauce.

In a mortar and pestle, smash the garlic cloves with a few pinches of salt until you get a smooth paste.

Add the chopped dill, and garlic paste to the yogurt, and adjust salt if needed.

Serve the zucchini while hot, with the cold dip.