Black bean and sweet potato hummus dip – black and orange, sweet and spicy, creepy and fun, this Halloween-inspired hummus dip is a 'spooktacular' addition to your party table.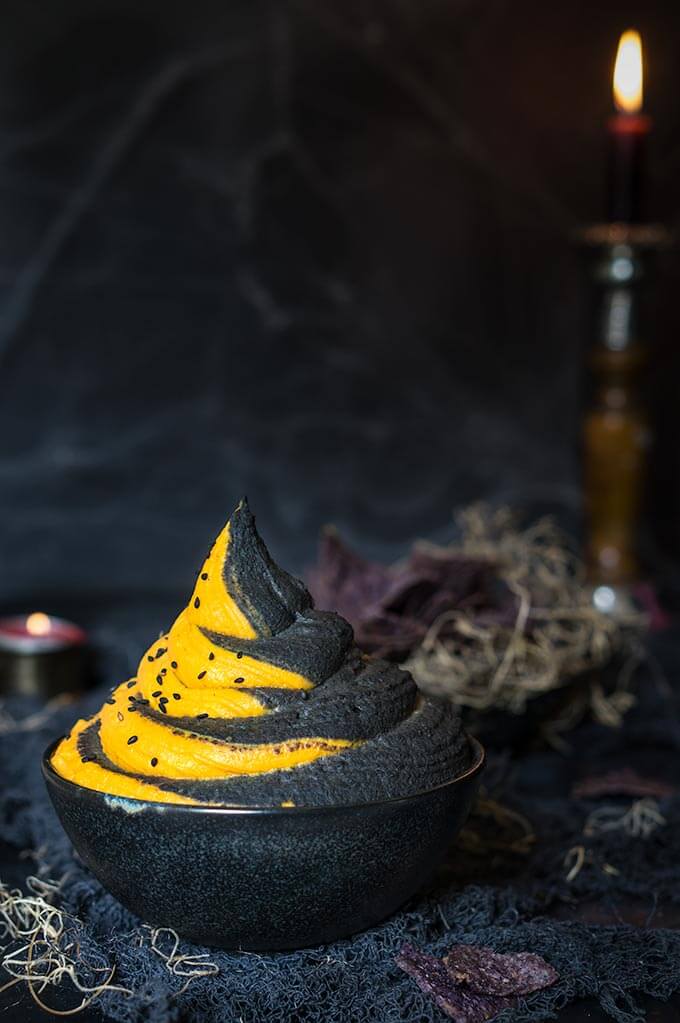 Hey, you guys!
It's time to dig out the old Halloween box, dust off  the costumes, the hats, the candles, and props, and get into the holiday spirit!
Yes, I still haven't decorated my house for Halloween, nor have I bought the candy!  I just spent a good hour or two rummaging through the stuff we've collected over the years. So many kids' outfits, wigs, fairy wings, devil's ears, bug's antennae, and a myriad of rags, and accessories that have served their time, and now just collect dust, and remind me of times past…I still keep them though, and dutifully put everything back in the box every year.
The kids' costumes these days are mostly DIY ones.  No more trips to the Halloween stores; instead – we go to Joann's and buy scraps of fabric, glues, paints, boxes, tools…This year, we're making a giant (walking) box of popcorn, and I just saw this quite realistic way to create popcorn kernels using insulation foam!  It's definitely more fun to make your own costume, and since we've outgrown the pumpkin patches (I'm currently the only in the family who misses this pre-Halloween activity 🙂 ), the DIY-ing provides plenty of Halloween entertainment.
So the old dusty Halloween box got me thinking, and it didn't take long before I came up with a theme recipe.  If you're like me, and still haven't decorated, or thought about your Halloween paraphernalia, maybe this recipe for black bean and sweet potato hummus dip will give you some inspiration, and get you in the proper mood.  Weather you're hosting a Halloween party (or attending one), or if you just want to make something fun for your own family on Halloween night, this recipe is a great idea. Not only are the colors right, and are sure to invoke some strong Halloween vibes, but the flavor combination of sweet potatoes, and smoky, black bean hummus are just perfect for each other.
The black color of the beans is intensified by the addition of activated charcoal powder, which is the best natural way to add blackness to your food, plus it's actually beneficial for you.  You can read in detail about it here, or here, but in short – it's a detoxifying agent, that has the ability to bind to toxic substances in your body, preventing them from causing any harm.  Activated charcoal has been used for centuries by ancient civilizations as a poison antidote, or to absorb unpleasant odors, and today it's a major component of water filters due to its ability to purify.  In our house we use it mostly to whiten teeth, or blacken food. I hear it also helps alleviate hangover symptoms, and bloating, but I personally haven't tested that.
It doesn't have any flavor or odor, and you can control how black you want your food to be.  I added 4 charcoal capsules in mine, for a very dark grey, almost black color.  It's also sold in powder form, but I find that capsules are easier to use (and drink if you have to), and less messy.
Oh, and to get that two-tone swirl, you don't need any special equipment.  All you need is a big ziplock bag, and some plastic wrap.    You place your first on the plastic wrap, flattening it a bit, and creating an oblong shape, leaving enough space on both ends, then you place the second dip on top, and spread in the same oblong shape, being careful not to mix the colors.  Fold the plastic wrap tightly around them, into a salami looking shape, and twist the edges.  Insert this into the big ziplock bag, making sure that one end of the wrapped dip is all the way into one of the ziplock bag corners, to create a piping bag of sorts, then cut off about a 3/4 of an inch wide opening from both the bag and wrapped dip.  I used this quick tutorial, and it worked perfectly.
Here are some other super cool Halloween recipes to get your creative juices going:
Sesame roasted, maple chipotle delicata squash
Halloween meringue bones pavlova with raspberry blood
Bloody torture Halloween shots
Nakd graveyard chocolate mousse pots
Vampire's drip cocktail
Avocado and wasabi deviled eggs
Black sesame macarons
Bacon-wrapped prunes with herbed feta dip
Have fun decorating, and planning your Halloween night!
Black bean and sweet potato hummus dip
Course:
Appetizer, Snack / Appetizer
Ingredients
For the sweet potato hummus:
1

lbs

cooked sweet potatoes

(2 medium)

2

Tbs

tahini

1

tsp

toasted sesame oil

2

Tbs

orange juice

(or water)

2

Tbs

water

3/4

tsp

salt

pinch of cinnamon
For the black bean hummus:
1

can

cooked black beans

(1.5 cups)

2

Tbs

tahini

2-3

Tbs

mayonnaise

1/2

tsp

smoked paprika

1/4

tsp

chipotle pepper

1/2

tsp

cummin

1-2

garlic cloves

2

Tbs

ground toasted black sesame seeds

(optional)

salt

4

activated charcoal capsules

(see note)

black sesame seeds for decorating, and blue corn chips for serving
Instructions
To make the sweet potato hummus:
You can either boil the unpeeled sweet potatoes until soft, or you can roast them in a hot oven whole. Once soft, leave them to cool, and peel.

Place the sweet potatoes, and the rest of the ingredients in a food processor, and blend until very smooth. If too thick, add a bit water or milk (1 tbs at a time).
To make the black bean hummus:
Place all ingredients, except the charcoal into the food processor, and blend until smooth. Adjust the thickness by adding water, or more mayonnaise.

Carefully twist the charcoal capsules, and dump the powder into the food processor. Blend a few more minutes, until the charcoal powder has been fully incorporated. Add more or less to control the desired black color.