No-bake vanilla chocolate cake – delicious, elegant and super easy to make, with layers of tea biscuits, chocolate pastry cream, and candied hazelnuts for extra flavor and decoration.
A few weeks ago we celebrated our daughter's 14th birthday!  When she was little, I used to jokingly scold her that she's grown yet another year, and I vowed to stop her from growing any more. I was shocked then, that she would turn the ripe, old age of 10!  Now that she's fourteen, I'm still amazed at the number, but more than that, I am shaken by the speed with which things are changing…
For  the first time this  year, we did not have our annual birthday 'treasure hunt', a tradition I started 5 years ago, where a string for clues and fun riddles leads the kids to hidden places around the house, where small presents await.  It's been the most anticipated birthday experience, and kids have always begged for it.  Not this year, for my 14-year old…As it turns out now, it's become harder for me to outsmart my girl, and give her challenging, or interesting enough clues! Sigh…
But as much as I reminisce about the past, and miss that little ball of curly hair, and cute dimples, with a husky voice and a bubbly personality, I cannot wait to see what a beautiful adult she'll become in a just a few more years!  In the meantime, we have a smart and pretty teenage girl who still lights up the room with her big smile, and melts your heart with a big hug.
As is our tradition, I make a different birthday cake every year for each family member, based on their likes, or my whims at the moment.  But if you ask me for a cake recipe, I would be stumped to give you one.  I don't have a routine cake that I make over and over.  I always want to try something new, and maybe better…It usually starts with an inspiration – a mix of ideas, or combination of cake recipes, and ends with my own improvisation at the moment.   Whatever the result, I simply never ever remember to write down what I'm doing, and then I completely forget it, and regret it later, especially when it turns out really good.  Since I started the blog, I decided I'll try my best to keep notes, and post the most successful of cake recipes here.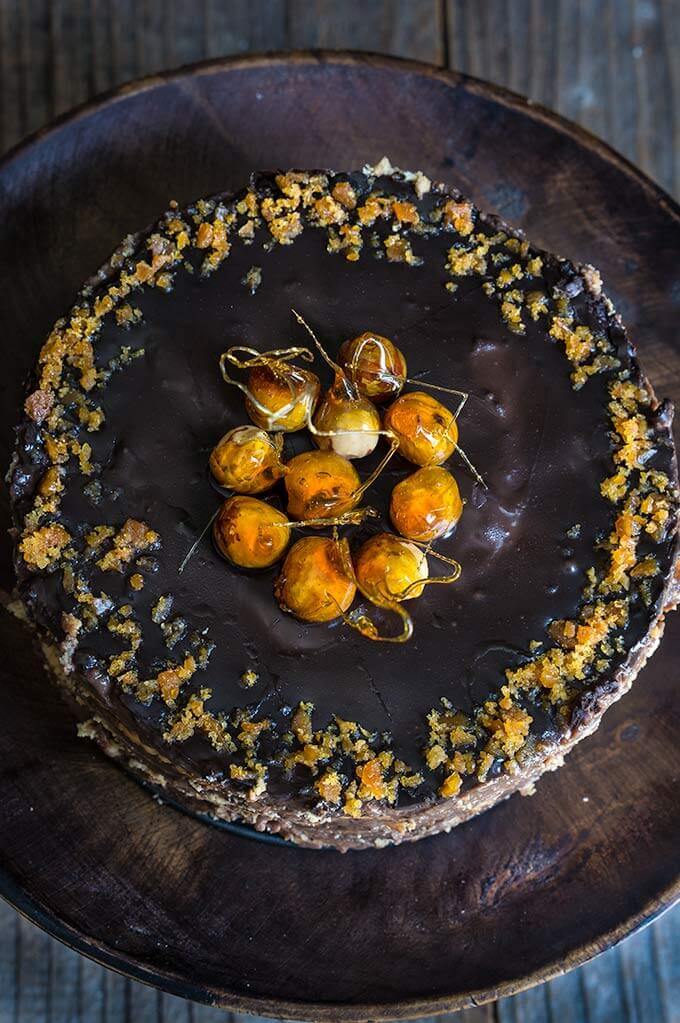 Today's recipe is so easy that it's almost a cheat.  It's a simple, no-bake vanilla chocolate cake, that's one of the easiest  and fool proof cakes you can make, and yet it tastes so good.  The 'cake' layers are simple tea biscuits, or vanilla butter cookies, soaked in milk and rum, and in between, there are layers of chocolate pastry cream, and a dark chocolate ganache on top.  As the cake sits in the fridge, ideally overnight, the biscuits soak up the chocolate cream, and soften up.
The candied hazelnuts on top are not just super yummy but make a great decoration. It was fun to make them by 'pulling' the sugar thread and creating different shapes out of it (I used this video as a guide).  You just have to remember to start 'pulling' when the caramel has slightly cooled off, and be very gentle, as the thread breaks easily.   With the rest of the hazelnuts I made a hazelnut praline, which I crushed and used both on top of the cake, and in between the layers for some extra crunch and flavor.
Try to find good quality tea biscuits – they should be plain and dry, not too soft, not too sugary, and not too buttery, rather like animal crackers but thin and flat.  I get mine from Middle Eastern stores, but fine European butter/vanilla biscuits like Leibniz
will work too.  These may be easier to find in big grocery stores.  If you can't find anything else, then use plain old lady fingers, although they are much softer and sweeter, and the texture and taste will be different.
Here are a couple more cake recipes you might like:
Our favorite chocolate and walnut meringue Garash cake.
And this lighter, fruity coconut macaroon peach panna cotta cake
No-bake vanilla chocolate cake
No-bake vanilla chocolate cake - delicious, elegant and super easy to make, with layers of tea biscuits, chocolate pastry cream, and candied hazelnuts for extra flavor and decoration.
Ingredients
For the chocolate pastry cream:
6

egg yolks

2

cups

milk

1/2

cup

sugar

3

Tbs

cocoa powder

1/3

cup

corn starch

1

vanilla pod

(or 1 tsp vanilla extract)
For the chocolate ganache:
100

g

dark chocolate

100

g

whipping cream
For the candied hazelnuts:
1/2

cup

toasted hazelnuts

1/4

cup

sugar
For the cake:
200

g

plain tea biscuits *

100

g

milk

2

Tbs

rum

(or 1 Tbs vanilla extract)
Instructions
To make the chocolate pastry cream:
Split the vanilla bean pod, using a sharp knife, and scrape the seeds. Place the vanilla seeds, vanilla pod, and the milk in a saucepan, and bring to a slow simmer. Remove from heat and let it soak the vanilla flavor while preparing the eggs.

Beat the egg yolks with the sugar, until pale yellow and fluffy. Add the cocoa powder, and corn starch, and mix well.

Remove the vanilla pod from the milk, and slowly start adding half of the warm milk into the egg yolk mixture, while stirring constantly.


Return the egg mixture to the saucepan with the rest of the milk, and heat over medium heat, stirring all the time, until it thickens. Remove from the heat, and use while still hot.

Make the candied hazelnuts:
Insert a toothpick into each hazelnut, being careful not to break it.

Place the sugar in a dry pan, and stir until it melts and gets a nice caramel color. Remove from heat, and let cool just a little.

Dip each hazelnut in the caramel, and pull up a thin thread of caramelized sugar. You can play with it, and make different shapes. Carefully place the hazelnuts on a parchment paper to harden completely.

Use the pulled sugar hazelnuts as decoration, and add the rest to the remaining caramel. Stir, and pour onto a piece of parchment paper. Once they harden, crush them into small pieces to use later for the cake assembly.
Make the chocolate ganache:
Chop the chocolate into pieces. Heat the cream, and pour it over the chocolate. Stir until the chocolate has melted.
Assemble the cake:
Line a 6-inch cake form with parchment paper. Add the rum (if using), or a dash of vanilla extract to the milk, and stir well.

Dip each vanilla biscuit briefly in the milk, and arrange in a single layer at the bottom of the cake form.

Spread some of the pastry cream on top. Sprinkle a bit of the caramelized hazelnuts. Repeat layering tea biscuits, pastry cream, and hazelnuts until you get approximately 5-6 layers.

Pour the chocolate ganache on top of the layered cake and spread in an even layer.


Arrange the pulled sugar hazelnuts on top, and leave in the fridge for a few hours or overnight.
Recipe Notes
*  You can use European tea biscuits like Leibniz, or other plain tea biscuits that are not too high in sugar.