Grilled shrimp tacos with tomatillo salsa and homemade tortillas – bursting with flavor, juicy shrimp, grilled poblano peppers and tomatoes, topped with freshly made salsa verde, and served over soft, homemade flour tortillas, these tacos are a must-try!
Last Friday, I threw up a Mexican feast, complete with homemade tortillas, a killer homemade salsa verde, pork carnitas (not featured here), and grilled shrimp skewers to serve taco style. And as an added bonus, there were grilled peppers and tomatoes, cabbage slaw, and this awesome roasted veggie guacamole. Plus margaritas of course, to wash all that food down.
Although the kids favored the pork carnitas, the adults were partial to the shrimp skewers. But the highlight of the feast for me were the roasted tomatillo salsa, which is the best salsa verde I've tasted – mildly spicy but super fragrant and flavorful, and the homemade tortillas which the kids almost devoured alone, before I managed to serve the rest of the meal.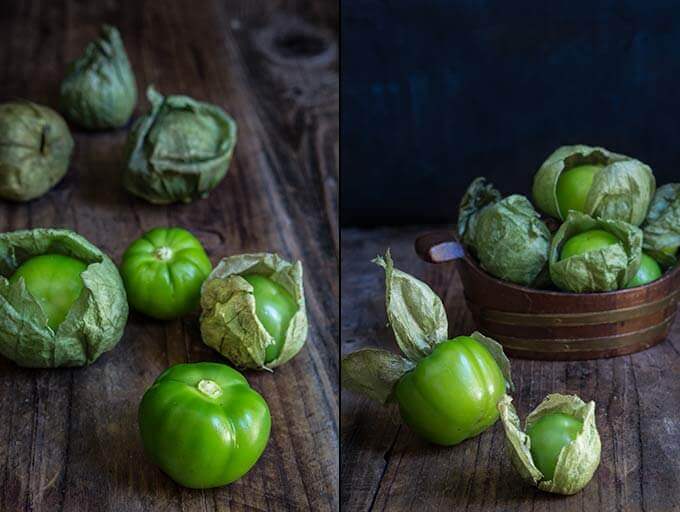 The recipe for the salsa verde is slightly modified from Hartwood cookbook
, and is something you should definitely try, not just for tacos, but with any grilled meat. It's so delicious, and the flavors so balance, that you can eat it with a spoon on its own. It can definitely be made in advance the day before – just remember to bring it to room temperature, before you serve it, and give it a fresh squeeze of lime juice to waken it up. The key here is to dry toast the spices and grind them coarsely just before using – lots of coriander, both as seeds and fresh, go in there, as well as cumin seeds, garlic, onions, lime juice and a touch of honey. The recipe makes about 1 1/2 cups and you might have left over. Try adding it to salads, for an extra boost of fresh flavors.
As for the tortillas, they too are worth the extra time, and can too be made in advance, and reheated. In fact, since you are taking the effort to make homemade tortillas, you can double the recipe, and refrigerate the leftovers, or freeze them for later. The homemade dough has nothing to do with the store-bought version – from its soft, slightly chewy bite, to it's freshly baked taste, these are just too good to be missed. The dough doesn't require a lot of kneading and is easy to work with. You need to rest it for no more than half hour, and the only thing that may take more effort is flattening the balls of dough into super thin round tortillas. I don't have a tortilla press, so I used a regular rolling pin, and placed the ball of dough between parchment paper, then rolled out to about 5-6 inch tortillas. These were a good size for soft tacos.
I know Cinco de Mayo is gone, but hey, there's always Taco Tuesdays 😉
Grilled shrimp tacos with tomatillo salsa and homemade tortillas
Grilled shrimp tacos with tomatillo salsa and homemade tortillas - bursting with flavor, juicy shrimp, grilled poblano peppers and tomatoes, topped with freshly made salsa verde, and served over soft homemade flour tortillas.
Ingredients
For the homemade tortillas:
2

cups

flour

1/4

cup

lard

3/4

cups

cold water

(slightly less)

1

tsp

salt

1

tsp

baking powder
For the tomatillo salsa (can be made in advance):
16

medium tomatillos

1

jalapeno chili pepper

1

red onion

5-6

garlic cloves

4

tsp

whole coriander seeds

2

tsp

cumin seeds

1

tsp

honey

1/2

cup

freshly squeezed lime juice

1

bunch of cilantro

1/2

tsp

black pepper

salt to taste
For the shrimp skewers:
1

lbs

shrimp, peeled, tail on

1

poblano/green bell pepper, chopped into bite sizes

a handful of cherry tomatoes

1/2

tsp

ground coriander

1/2

tsp

cumin

1/2

tsp

chili powder

1/2

tsp

smoked paprika

1

tsp

dry oregano

3

garlic cloves

1

tsp

salt

3-4

Tbs

olive oil
Instructions
To make the flour tortillas (can be made in advance):
Stir the salt and baking powder in the flour, and mix in the lard, until it has the consistency of dry crumbs. Start adding a little of the cold water, until you have a soft dough, which doesn't stick. Knead the dough for a few minutes, then form into a ball, and leave in a bowl, covered with plastic wrap for 15 minutes.

Divide the dough into 16 small balls (for tacos), or 10 balls (for regular size tortillas). Leave the balls, covered with plastic wrap for another 15 minutes.

Place a ball of dough between two sheets of parchment paper, and using a rolling pin, roll into a round shape, as thin as possible. Set the tortilla on a wide plate, while working on the rest (sprinkle a bit of flour in between the flattened tortillas to prevent them from sticking).

Heat a cast iron pan on medium, and cook the tortillas on both sides, until bubbles appear on the surface, and the bottom is nicely browned. For softer tortillas, flip them as soon as they begin to color slightly. Place each cooked tortilla on a plate and cover with a kitchen towel to keep soft and warm. If you like the tortillas on the crunchy side, leave them until dark brown spots appear on both sides.
To make the tomatillo salsa (can be made in advance):
Toast the whole coriander and cumin seeds in a dry skillet for a few seconds, until fragrant, then place in a spice grinder and process to a coarse powder ( a few seconds)

Remove the husks from the tomatillos, wash and halve them. Halve the jalapeno, and remove the seeds. Cut the onion into big chunks.


Spread the vegetables on a baking pan, add the garlic cloves, 2-3 Tbs olive oil, the coriander and cumin, salt, and black pepper. Roast at 425 °F oven until the veggies are soft, and the onions start to caramelize.

Throw the roasted veggies into a food processor, together with the chopped fresh cilantro, honey, and lime juice, and process to a chunky puree. Taste and adjust the salt, and add more lime juice if needed.
To make the shrimp skewers:
Mix all ingredients for the marinade, and pour over the shrimp, and veggies. Let sit for at least 30 minutes.

Thread the shrimp and veggies on wooden skewers.

Heat your grill to medium, and grill the skewers for a few minutes on each side, until the shrimp is nicely pink, and opaque.

Pull the shrimp and veggies from the skewers, remove the tails, and chop the shrimp into bite sizes.
Assemble the tacos:
Place some of the shrimp and grilled veggie mix on a flour tortilla, top with the salsa verde, freshly squeezed lime juice and chopped cilantro. Optionally, serve it with chopped avocado or guacamole, and cabbage slaw.