Chilled corn soup with garlic shrimp and avocado – delicious, mildly sweet, and pleasantly cold, with a hint of garlic and coconut, this soup will feel like eating ice-cream on a hot summer day!

I hope you are all enjoying the last days of summer! Even though technically we have a full month still, for us, summer ends when school starts. I feel robbed of my summer every year, come August. School registrations are scheduled for early in the month, and all you can think from that point on, is back to school shopping, and back to school scheduling. Summer is over. Period. Not fair!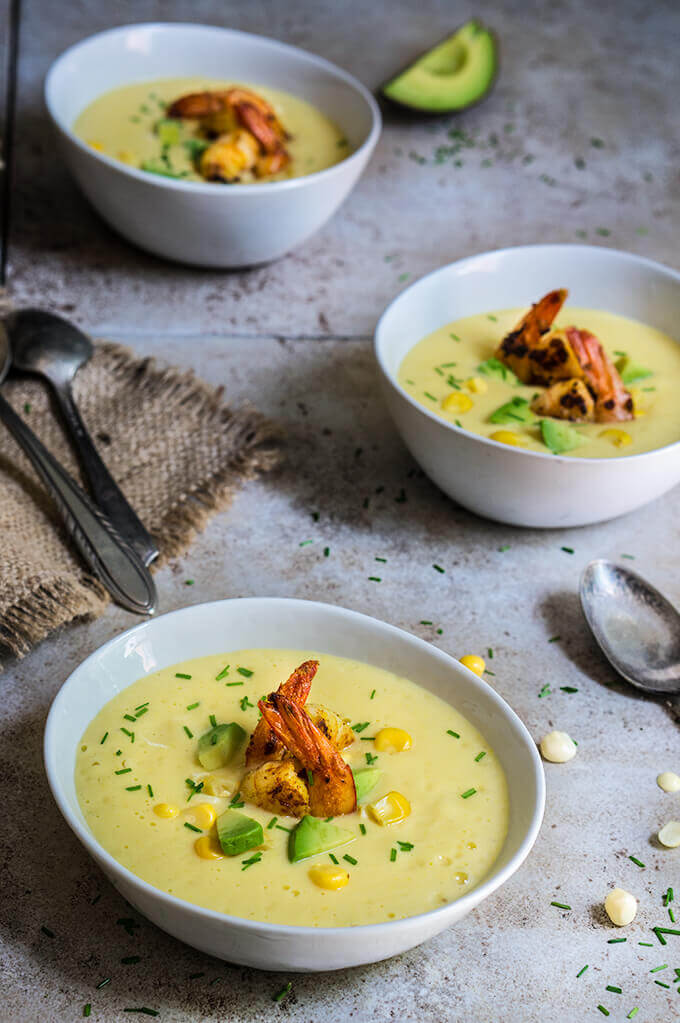 It's already the second week of high school for my daughter, and tomorrow's the first day of middle school for my younger one! Exciting you'd think…Not this time! Both my kids are starting new schools this year but the mood is rather gloomy this time around. I get it…it's scary for me too!
There's one exciting thing happening today though – solar eclipse! Even though CA doesn't fall in the path of totality, we will get a partial (76%) solar eclipse visible from the SF Bay area. Only if the clouds clear up a bit, that is…I am still hopeful, the forecast says it would clear at 10 am, just in time for the eclipse at 10:16 !! Fingers crossed!!
In the meantime, I would like to share this easy recipe for a super delicious chilled corn soup, with garlic shrimp and avocado! It's perfect for your late summer menu, it's totally yummy, and kid friendly (minus the shrimp, maybe).  It's quite simple too – just 2-3 ingredients. I find the flavors shine when the soup gets chilled completely.  It almost tastes like vanilla ice cream, I swear!  It's perfect for a hot summer night dinner.
The juicy, sweet, fresh corn, coupled with the mild sweetness of shellfish is simply perfection!  You can replace the shrimp with crab meat too.  Just make sure to add lots of butter, and garlic, and maybe some hot pepper flakes, when you cook the shrimp or crab.  The avocado is only for topping, and is totally optional, but being such a textural eater, I like to pile my soups with lots of different toppings. Oh, and if you skip the shrimp, the soup is vegan, as I use a bit of coconut milk for creaminess.
If you are looking for a respite from the heat, you could also try my cold cucumber and yogurt soup, which is totally satisfying and filling.
Chilled corn soup with garlic shrimp and avocado
Chilled corn soup with garlic shrimp and avocado - delicious, mildly sweet, and pleasantly cold, with a hint of garlic and coconut.
Ingredients
2

cups

corn

(from 2-3 ears of corn)

1

small onion, chopped

4

garlic cloves, minced

2

Tbs

coconut oil

1/2

cup

coconut milk

1 1/5

cups

water

(vegetable broth)
For topping:
1/2

lbs

shrimp, tail on

2

Tbs

butter

3-4

garlic cloves, minced

1

tsp

hot pepper flakes

1

avocado

(optional)

sea salt to taste
Instructions
Remove the corn kernels from 2-3 ears of corn, by cutting them off, close to the cob, until you get 2 cups of corn kernels, plus 1/4 cup more for garnishing.

Heat the coconut oil, and saute the onion for a few minutes, on medium heat. Add the minced garlic, corn kernels, and the water. Season with salt, and cook for 10 minutes.

Add the coconut milk and cook for 1-2 minutes. Let cool a bit, then process in a blender until smooth.

Leave the soup in the fridge to chill completely.

Before serving, melt the butter, and add the smashed garlic, and hot pepper flakes if using. Add the shrimp, and quickly saute, turning once, until cooked through, and opaque. Remove to a plate, and use as garnish to the soup.

Divide the soup into 4 small bowls, and garnish with the garlic shrimp, chopped avocado, the reserved corn kernels, and chopped garlic chives.