Chocolate strawberry martini – your favorite strawberries and chocolate combo gets a boozy lift in this dangerously delicious cocktail.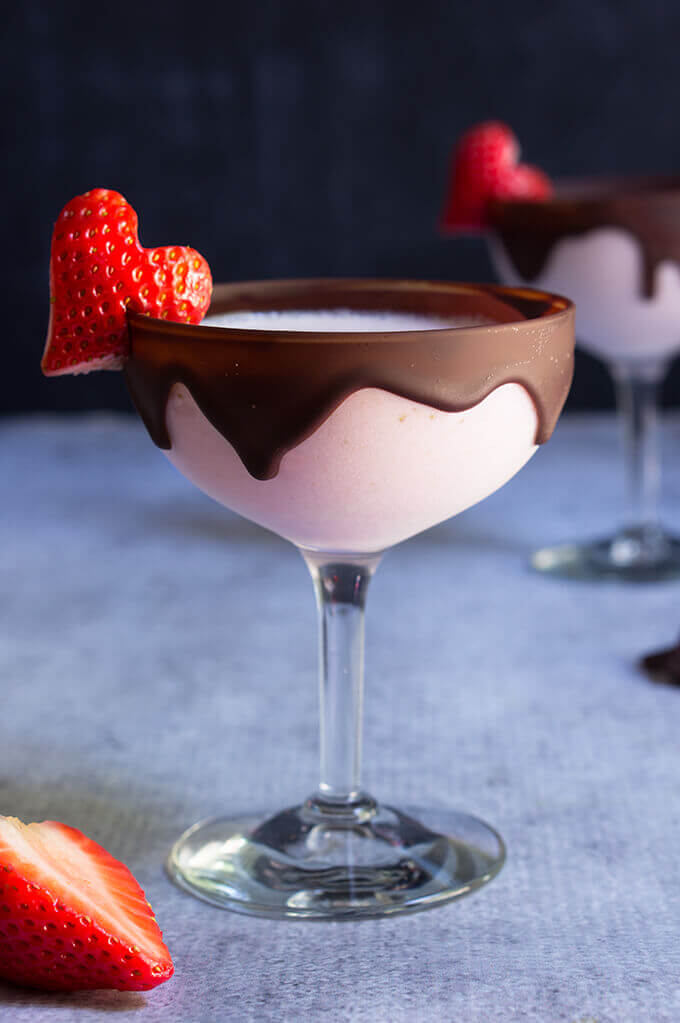 What's the first thing that pops into your head when you think Valentine's day treat?  I bet it's chocolate, and then I am ready to bet, your next thought will be chocolate-dipped strawberries.  There is a good reason why chocolate and strawberries is such a cliche for this holiday – not only they scream sophisticated treat, but the red, heart-shaped strawberries, almost symbolic in appearance, dipped in luscious chocolate are the perfect, seductive, one-bite treat.
This Valentine's day, may I suggest something a little more fun, and flirty, yet with the same amazing taste, like this chocolate strawberry martini?  In this impressive cocktail, the classic pair is further 'enhanced' with some Wild strawberry vodka, White creme de cacao liqueur, and vanilla ice cream!   It is absolutely delicious, and served in chocolate-dipped glasses, it makes for a killer presentation.  Be warned though, it goes down dangerously fast!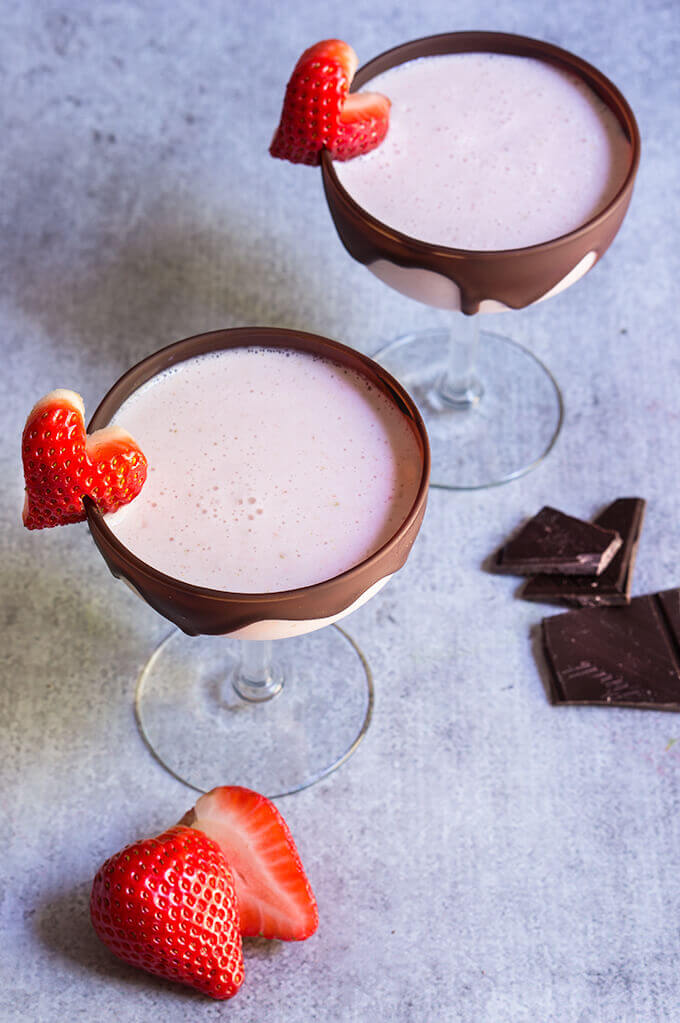 Frozen strawberries can be substituted if fresh ones are hard to find still.  I started to see the first fresh strawberries coming up on the markets, and I couldn't resist.  I chose white chocolate liqueur like Hiram Walker white creme de cacao, which is clear and sweet with a lovely chocolate aroma, so as not to muddle the delicate pink color of the cocktail.  You can also make a mocktail version for your kids, by skipping the liquor, and blending the strawberries and vanilla or white chocolate ice cream instead.
For decoration, you can use any chocolate you like – white, dark, or milk to dip your glasses.  Simply melt it over a double boiler, and then get creative by tilting the glass rim to make those chocolate waves, and drips, or hold the glass vertically, and dip down for a straight edge.
Impress your sweetheart by serving this chocolate strawberry martini at the end of a romantic dinner, and resist the temptation to bite off the rim of the glass! 😍
Here are some other great ideas with chocolate, you can make:
DIY melting chocolate spoons, and a Viennese hot chocolate
Two-ingredient chocolate cake
Easy twiced baked chocolate souffles, with whiskey chocolate sauce
Chocolate frangelico hazelnut tarts
Chocolate strawberry martini
Chocolate strawberry martini - your favorite strawberries and chocolate combo gets a boozy lift in this dangerously delicious cocktail.
Course:
Drinks / Cocktail
Ingredients
2

oz

Wild strawberry SKYY vodka

or other strawberry infused vodka

2

oz

White creme de cacao

(Hiram Walker, Marie Brizard, or DeKuyper brands)

5

oz

strawberries

about 1 cup, fresh or frozen

1

cup

ice

3

oz

of vanilla ice cream

2 full scoops

For decoration:

2

oz

chocolate of choice

for decoration

fresh strawberries for decoration
Instructions
Make the chocolate ganache for dipping the glasses:
Pour about an inch of water in a small pot, and bring to a gentle simmer.

Chop the chocolate into equal pieces, and place in a heat-safe bowl (and one, that is flat bottomed and wide enough to enclose the rim of the glasses) over the simmering water, so that the bowl does not come in direct contact with the water.

Stir constantly, until about 80% of the chocolate has melted. Remove from the heat, and stir until all the chocolate is melted.

Dip the glasses in the melted chocolate. You can tilt them slightly to create the wavy effect, then turn upside down, and allow the chocolate to drip on the sides slightly.
Make the cocktail:
Place all ingredients (except the solid chocolate) in a blender, and process until smooth.

Pour the cocktail in the prepared glasses and garnish with a fresh strawberry.