With BBQ season in full force, this tried-and-true recipe of marinated grilled vegetables will come in handy, and may very well become your favorite way to eat eggplants and peppers.  It's a cornucopia of summer vegetables, double-marinated and grilled to perfection till they are soft and sweet on the inside, and charred on the outside.  They are a fantastic side for barbecued meat, and served with the mild garlicky whipped goat cheese dip, they are a light summer meal on their own.
I love how the farmers markets are overflowing with produce right now, and I tend to always get more veggies than I can consume in a day or two, then scramble to cook everything while it's still fresh. I just can't decide whether to get the lovely green peppers, or the sweet red ones, the eggplants, the zucchini or summer squash…and more often than not, I get everything that looks great without any particular plan.   This recipe is the perfect way to cook this beautiful summer bounty all at once.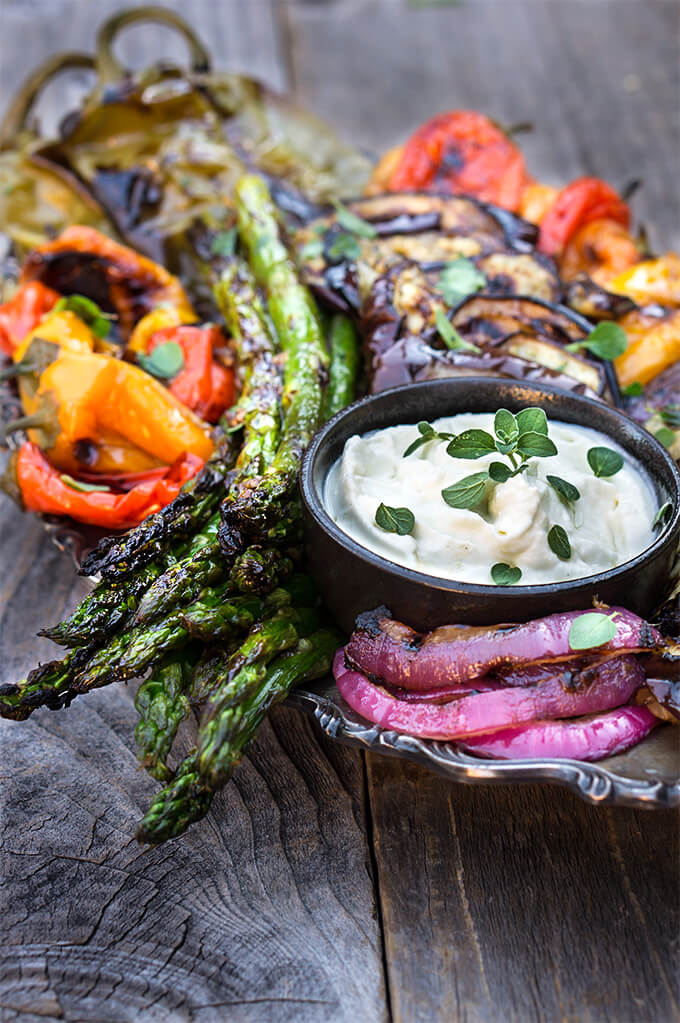 My favorite veggies to grill for this recipe are the eggplants and peppers but feel free to use any veggies you like.  Here I mixed three different varieties of peppers – green peppers, sweet mini peppers, and slightly hot Anaheim peppers for some spice. If you still have asparagus where you live, add them to the mix, and don't forget zucchini and sweet red onions too.
The veggies are first marinated, then grilled, and then doused with the remaining marinade for extra flavor.   It's a simple marinade of olive oil, balsamic and apple cider vinegar, oregano and garlic. You can replace the oregano with other herbs of choice like Italian spice mix, thyme, marjoram, savory, etc – fresh or dry.  No hard rules here.
The whipped goat cheese serves as a dip, and goes so well with all the veggies.  If you are serving them on their own, make some toasted bread, spread the goat cheese on top, and serve with the grilled veggies on the side.
And here's another great idea – grill more eggplants, and peppers, then place the leftovers in a wide container and pour a mix of equal parts olive oil, regular apple cider vinegar, and lots of garlic, and salt.   They will absorb all these wonderful flavors, and the next day you will have the most flavorful marinated eggplant and pepper salad!  It's delicious on its own, or can be added to fresh green salads.  It will also keep well in the fridge for a long time.
For other great summer recipe ideas, check out this simple and super yummy Eggplant dip, this old favorite Roasted red pepper jam, or the Baked eggplant in tomato garlic sauce – all of them are tried and true gems, and can be eaten cold so they are the perfect summer eats!
Marinated Grilled Vegetables with Whipped Goat Cheese
Course:
Side dish / Vegetarian
Ingredients
2

eggplants

1

lbs

zucchini

1

lbs

Anaheim green peppers

3-4

green bell peppers

or other variety like sweet Italian peppers

1

lbs

sweet mini peppers

or other variety like sweet Italian red peppers

1

lbs

asparagus

2-3

red onions

For the marinade:

1/2

cup

olive oil

1/4

cup

balsamic vinegar + 1/4 cup apple cider vinegar

4-5

garlic cloves

smashed

2-3

Tbs

fresh chopped oregano

or 2 Tbs dry oregano

salt to taste

For the whipped goat cheese:

1/2

cup

goat cheese

1/4

cup

whipping cream

1

clove

garlic

salt to taste
Instructions
Cut eggplants, onions, and zucchini in 1/4-inch thick slices.

Salt the eggplant slices, and leave in a colander for 20 minutes so the bitter juices drain out. Rinse and pet dry.

Wash the peppers, and leave whole.

Wash the asparagus, and cut the woody ends.

Mix olive oil, balsamic vinegar, apple cider vinegar, garlic and chopped oregano, with salt and black pepper, and brush all vegetables liberally with the marinade.

Grill veggies on medium heat, turning them over once or twice.

Remove to a plate, and drizzle with the remaining marinade and more fresh oregano. Add more garlic if needed - they should have a distinct garlicky tangy taste.

With an electric mixer beat the whipping cream until soft peaks form. Add the goat cheese, and smashed garlic, and a pinch of salt, then beat until fluffy.

Serve veggies with the whipped goat cheese on the side.
Recipe Notes
Place left over veggies in a container and pour over a marinade of equal parts apple cider vinegar and olive oil, plus lots of pressed garlic and salt. They will taste great the next day, and will keep in the fridge for a long time.