Hazelnut buckwheat pear financiers – made with browned butter and toasted hazelnut meal, topped with juicy pears, and crunchy caramelized hazelnuts, these mini gluten free cakes are moist and buttery, with an irresistible nutty flavor.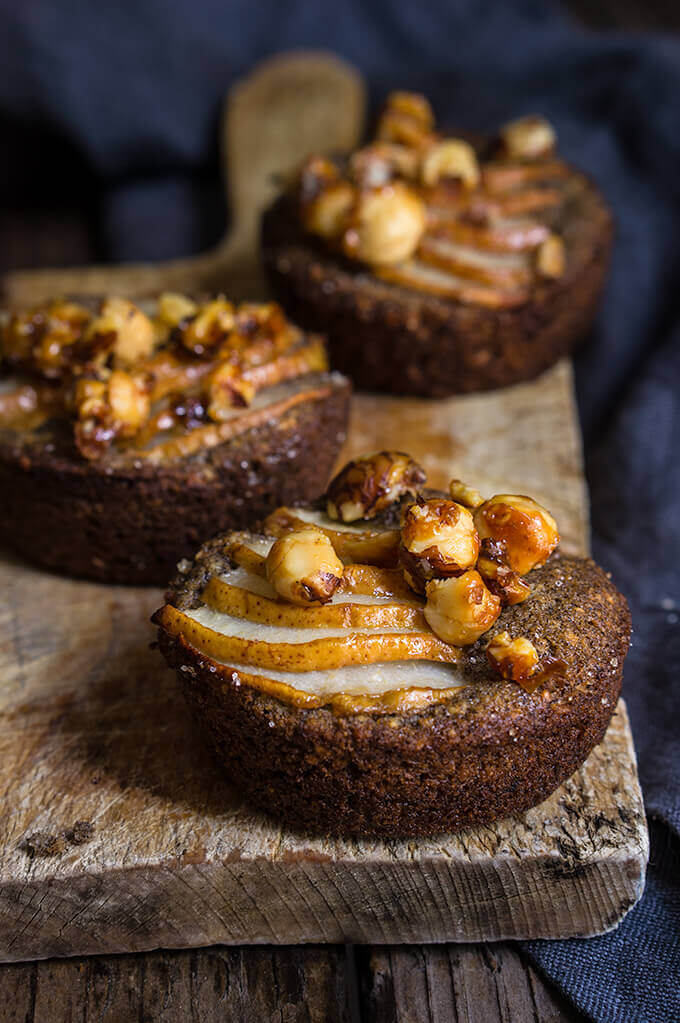 For the longest time, I've been meaning to post something from my latest favorite cookbook, Alternative Baker
, by Alanna Taylor-Tobin, but for the life of me, I couldn't decide which one of her 100+, absolutely gorgeous recipes to make first – impossible choice!  Finally, opportunity presented itself in the form of a few leftover egg whites, and these hazelnut buckwheat pear financiers were born.
I've been a huge fan of Alanna's baking blog, The Bojon Gourmet for years, and when I found out she's published a cookbook, I got so excited I ordered it on the spot. This was the fastest cookbook purchase I've made – didn't even 'look inside'!  Now I am not much of a sweets person, or a baker, and I'm not following a gluten free diet (although I am always looking for ways to skip the white flour, or replace it with something healthier). But I fell in love with this book which is an almanac of gluten free dessert baking.  Instead of feeling limited by the gluten free constraints, the book opens up a whole new level of baking possibilities.
Leafing through the pages, drooling over the stunning photography and unique recipes, and reading the names of all these unknown flours, with exotic names like sorghum, teff, mesquite, and flavors of baked earth, malted milk, and chocolate, I felt completely mesmerized and intrigued.  I had a strong urge to bake, and make all of the recipes, and…ended up making nothing, simply stumped by the many choices, all of them equally enticing…
Until one day,  my 10-year old decided to make eclairs.
Inspired, no doubt, by the kids' cooking shows she's been watching on TV, she chose to make a sophisticated French pastry.  I wholeheartedly agreed of course.  Her sister helped by making the vanilla custard, I helped with the chocolate ganache, and the three of us shamelessly ate the eclairs before they even got a chance to soak up that yummy vanilla cream. We did have a small hiccup with the pastry cream the first time (which nevertheless was a great teaching moment for how to temper eggs), so we ended up making a second batch, and as a result, we had too many leftover egg whites.
Usually when I have extra egg whites, I think of these all-time favorite walnut meringue cookies. But this time, I remembered a recipe from the Alternative Baker that had the perfect use for them – financiers, a.k.a. little French cakes usually made with almonds, butter and egg whites.
The original recipe uses plums, and two different flours, but Alanna gives you a variation in almost every recipe, in case you don't have mesquite or chestnut flours handy (not your typical pantry staple, even in my house where I have more jars and containers than I could remember the contents of). I happened to have buckwheat flour, and I decided I'll make my own hazelnut meal from toasted hazelnuts, so I used the combination of the two as an alternative.  Just the mention of hazelnuts was enough selling point for me, so that sealed the deal.
The buckwheat flour gives the dough this bizarre dark gray hue so don't be alarmed.  Another interesting detail that caught my eye in the recipe, is the use of browned butter, instead of regular one, which further complements the nutty flavors of hazelnuts and buckwheat flours.  I made a slight modification by adding a caramelized hazelnut topping, and therefore I used less sugar in the dough than the recipe calls for, but it worked out perfectly.
The result was incredible!  These little cakes are so moist, they melt in your mouth, and their strong hazelnut aroma is simply irresistible.  I really doubt that they would taste anything as remotely delicious as this, had they been made with regular white flour.  The juicy, sweet pears, and the crunchy hazelnuts on top provide just enough textural contrast to the soft interior, and I can't wait to experiment with other fruit and flour variations! ❤❤❤
Hazelnut buckwheat pear financiers
Hazelnut buckwheat pear financiers - made with browned butter and toasted hazelnut meal, topped with juicy pears, and crunchy caramelized hazelnuts, these mini gluten free cakes are moist and buttery, with an irresistible nutty flavor.
Course:
Dessert / Breakfast
Ingredients
1

stick unsalted butter

(8 Tbs, plus 1-2 tsp for greasing the muffin pans)

1/2

vanilla bean pod

3/4

cup (75 g)

hazelnut flour/meal *

1/3

cup (40 g)

buckwheat flour

1 1/2

Tbs

cornstarch

6

Tbs

sugar

4

large egg whites

(120 ml)

1/4

tsp

salt

2

ripe pears
For the caramelized hazelnut topping:
1/2

cup

toasted, whole hazelnuts

2-3

Tbs

sugar

1

Tbs

butter

pinch of salt
Instructions
Preheat the oven to 350° F

Melt the butter in a saucepan with the scraped vanilla bean seeds, and vanilla pod, and cook for 5 minutes on medium heat, until it starts to foam, and browns a bit. Remove the vanilla pod, and pour into a separate cup to cool off.

Sift the flours, cornstarch, salt and sugar.

Whisk in the egg whites, and stir vigorously.

Add the melted butter, and whisk until a sticky dough forms.

Liberally grease a muffin pan with softened butter (the consistency of mayonnaise), or use muffin liners.

Distribute the dough evenly, filling each muffin cup halfway.

Peel and core the pears. Cut them in half lengthwise, then again crosswise, and slice them thinly.

Arrange a few pear slices on top of each cake.

Bake for 30-35 minutes.

While the cakes are baking, prepare the quick caramelized hazelnut topping: place the sugar in a dry pan, over high heat until it begins to caramelize. Add the butter, the pinch of salt, and the hazelnuts, and stir to combine. Remove from the heat and spread over parchment paper. Let cool completely, and break into pieces.

Once the cakes are out of the oven, top each with the caramelized hazelnuts.
Recipe Notes
* To make the hazelnut meal, lightly toast about 1 cup of hazelnuts in a 250° F oven, for 10-15 minutes, stirring occasionally. Process the nuts in a food processor for about a minute, or until they are finely ground. Be careful not to process too much, as they will turn into a butter.
** Makes 10 cakes