Feta cheese quick bread – fluffy, moist and buttery, this savory quick bread recipe is ideal for breakfast, snack or even dinner.
What do I make for dinner tonight?  This is my every day dilemma, and not so much for lack of ideas, but for finding that tricky, elusive, ever-changing common ground where all picking eaters in the house can be satisfied.  That's the biggest problem for me – making that impossible dish, that has to conform to all these conditions – needs to be kid-friendly (meaning they will actually be willing to taste it), and adult-approved (meaning it has to be as healthy as they can take it), but also – quick and easy (because this question usually hits me at 5pm).
Does this imaginary dish even exist?  In most cases, the closest thing to that holy grail of meals is some form of cooked eggs.  But I often exhaust the idea of cooking eggs for breakfast, so I try not to push that too often for dinner as well.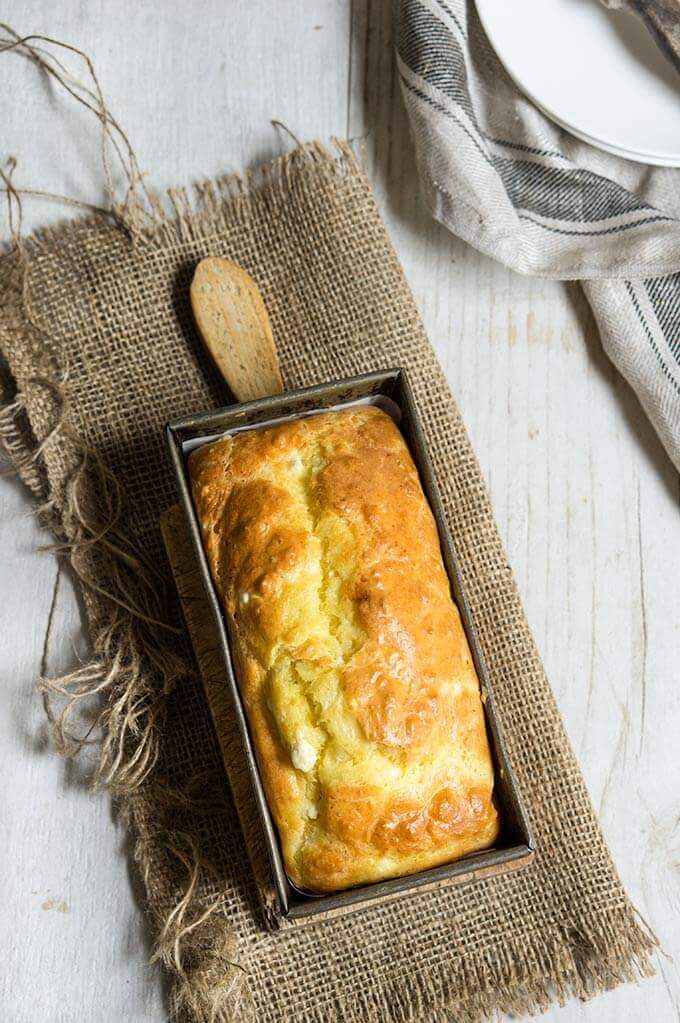 You might think that by now, I have a few tried and true recipes up my sleeve, that never fail to please everyone.  However, anyone living with young kids can attest that even their favorites, one day get old (not counting pizza and pasta, of course).  You have to always keep it fresh, and interesting in the kitchen, but also, don't go too 'interesting' on them, as they like things to be at the very least familiar and predictable.  You also need to go easy with the 'healthy' food, so it doesn't backfire at you.  How far you push for healthy eating, and how much you retreat – finding that optimal balance is hard.  And to complicate matters even more, the few dishes that one kid likes, the other – absolutely refuses to eat!
So whenever I get tired of thinking up dinner ideas, and my mind draws a complete blank, and I choose to close one eye, and give up on the healthy front, this is what I make: a feta cheese quick bread.  Not for breakfast, but for dinner.  Works like a charm.  Everyone is happy because anything that has dough in it, is a hit with kids.  And I am…just relieved.
This is a tried and true recipe that I often make for breakfast, brunch, dinner, snack, and sometimes for camping trips, in the form of muffins.  It's a savory feta cheese quick bread, that literally takes a few minutes to mix, and about 40 minutes to bake.  It comes out soft and moist and buttery, with salty feta cheese bits scattered throughout.  It's like a savory cake, and rather than using it for sandwiches, eat it as is, maybe with a bit of butter spread on top, and a cup of yogurt on the side.
The best thing about this bread, apart from being so quick and easy, is that it's one of those forgiving recipes, which always turns out great.   Even if your batter is a little more stiff, or a little more shaggy – it will all be good in the end!
The feta gives this bread a nice cheesy saltiness, that I love.  Feel free to increase the amount if you are a fan.   The use of good quality mayonnaise (without sugar) is essential.  As for yogurt, I've made it with regular plain yogurt, and Greek yogurt.  Make it in muffin tins for a different look (because we all know kids eat with their eyes).
Do you have a favorite go-to recipe that pleases all, but is still relatively healthy?  Do tell!
Feta cheese quick bread
Feta cheese quick bread - fluffy, moist and buttery, this savory quick bread recipe is ideal for breakfast, snack or even dinner.

Ingredients
1/2

cup

plain yogurt

(regular or Greek)

1/2

cup

mayonnaise

(preferably without sugar)

3

eggs

1 1/2

cups

flour

1

tsp

baking soda

1

tsp

baking powder

5

oz

feta cheese

2

Tbs

butter

(for greasing the pan)
Instructions
Using a hand mixer, beat the eggs, with the mayonnaise, and yogurt until fluffy and smooth.

In a separate bowl, mix the baking powder, baking soda and the flour, then add to the egg mixture, and whisk until you get a smooth cake batter.

Crumble the feta cheese, and add to the batter. Mix lightly to distribute.

Melt the butter, and brush the bread pan, or cake form all over.

Pour the batter in the prepared bread pan, and bake for 35-40 minutes, or until a toothpick inserted in the bread, comes out clean.
Recipe Notes
Makes one loaf.