Classic Italian tiramisu – so luscious, soft and airy, with just the right sweetness, and the perfect balance of flavors, this is simply the best tiramisu recipe ever! It tastes deceptively sophisticated, yet it takes 15 min to prepare, and only a handful of ingredients.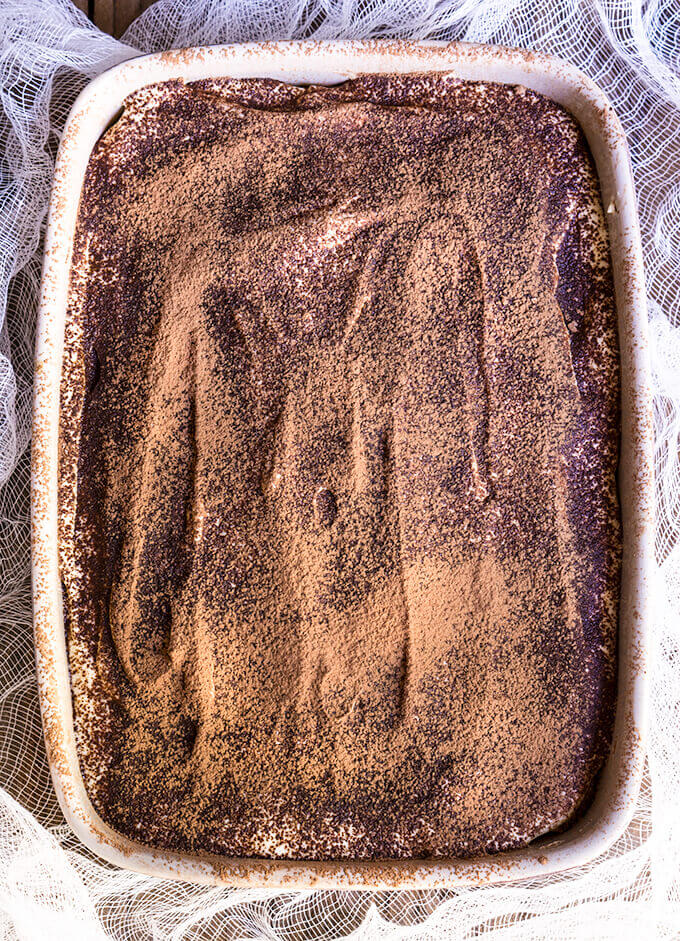 New Year's resolutions-shmesolutions…easier said than followed.
I had the good intentions, (and urgent need) to stop that mindless eating habit from before the holidays, and start an extended period of a detox diet of sorts, and I've spent the last week or so carefully engraving this idea in my brain, but that contradicted on two fronts very quickly.  First, how in the world, do you stop eating, or start a diet, while maintaining a food blog?!…those are two mutually exclusive things, I realized. Second, no sooner than I started eating clean(er) again, my husband's birthday knocked on my door, with a restaurant invitation, and whispered in my ear that it's time to make the annual tiramisu cake. And I, ignored all too quickly my brand new resolutions, and promised I would.
Oh, and third, my own birthday is coming up in a week, and it wouldn't be too much fun to be grazing on apples, and sipping tea, while watching other people having cake, and booze, right? Right.
I feel a little better now, that I cleared out those points (and not so much as the biggest hypocrite who only last week preached healthy diet, and gave you a clean, vegan salad), before I proceed to give you the recipe of the best tiramisu you'll ever have!
Yes, I'll go on a limb here, and declare that this is the best tiramisu recipe, I've tried.  It's an Italian classic, no-bake dessert which is essentially layers of sponge-like cookies, soaked in espresso, and rum, then dusted with cocoa powder, and enveloped in a luscious layer of light, and fluffy mascarpone mousse cream-mmm…It's my husband's favorite dessert, and I almost always make it for his birthday.
A long time ago, my friend Francesca, a real Italian,(a.i. born and raised in Italy), gave me her family recipe, and I haven't looked at another since.  It cannot compare to any restaurant tiramisu, even our favorite Steps of Rome restaurant in San Francisco (which sadly no longer exists), where we used to go for a night cup of espresso, and share a tiramisu, back in the day.
I've been making this tiramisu recipe for over 10 years, and I've given it to many people, so it's about time I share it here on the blog. It's a classic Italian tiramisu – simple, with just a few ingredients, just the right sweetness, and just the right balance of flavors.  It's simplicity in its purest, and it tastes divine!
None of that cloying overly-sweet, heaviness that you find too often in store-bought, or restaurant-style tiramisus.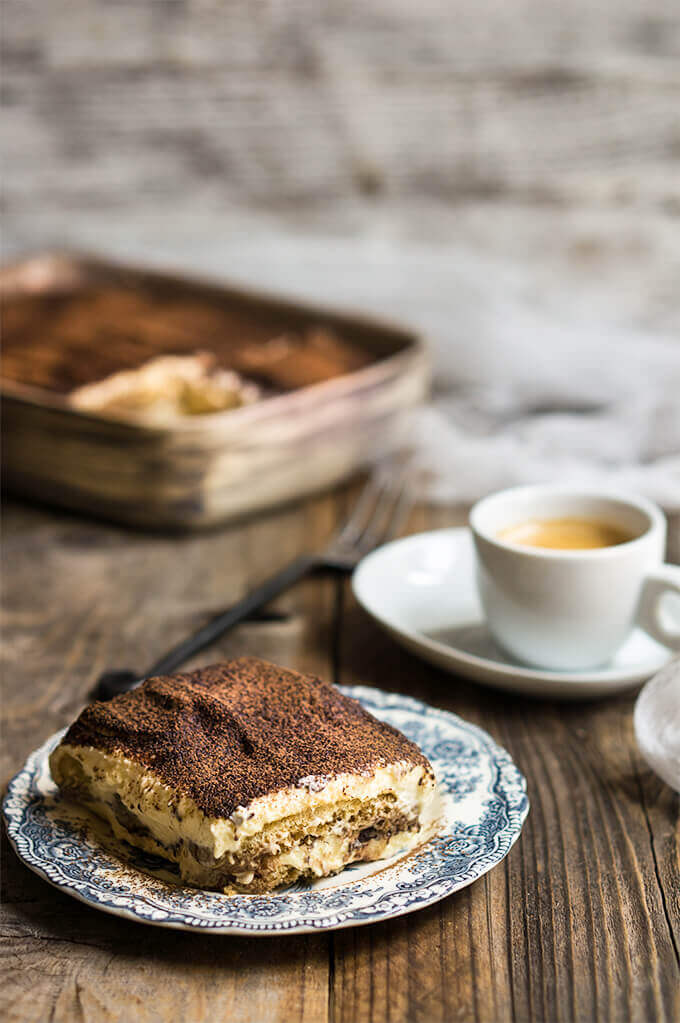 It tastes deceptively sophisticated and you probably wouldn't believe me if I tell you it takes about 15 minutes to make.  I always say that the hardest part about it is sourcing the ingredients. Ladyfingers, or the Italian version, Savoiardi, are sometimes seasonal items, and not easily found. I often have to go to 2-3 different stores before I get lucky and find a few left over boxes.  Usually lurking somewhere in the bakery sections of large supermarket chains like Safeway or Lucky, ladyfingers are definitely not a popular item, so be sure to ask for them, as they often kind of blend with so many other prominent baked goods.  This time, I found them in the freezer section, on my second store stop – a place I would never have guessed they should be kept.
Mascarpone cheese is more of a permanent staple these days, but again, your best bet is a bigger supermarket chain.   If you have Trader Joe's around, their mascarpone tastes great, and is far more reasonably priced than most others.
Once you procure those two ingredients, the rest is really a breeze.  It's probably the easiest dessert you'll ever make too.   Be sure to prepare it in the morning if you want to enjoy it in the evening, or even better – the day before, as the flavors need time to blend.
I hope you like it, and if you do, please share it with everyone, and tell them it's Francesca's tiramisu!
Thank you, Fran! ;))
Classic Italian Tiramisu
Classic Italian tiramisu - so luscious, soft and airy, with just right sweetness and the perfect balance of flavors, this is simply the best ever tiramisu recipe.
Ingredients
5

large eggs

separated

500

g

mascarpone cheese

about 2 containers (227 g each, or about 2 very full cups)

8

Tbs

sugar

4-5

Tbs

rum

1 1/2 - 2

cups

coffee

2-3

packs ladyfingers *

24 cookies per pack

5-6

Tbs

unsweetened cocoa powder**
Instructions
Brew the coffee, pour into a wide bowl, let it cool completely, then add the rum, and stir to mix. While coffee is cooling down, beat the egg whites into stiff peaks.

In a separate bowl, beat the egg yolks with the sugar until pale yellow and thickened.

Add the mascarpone cheese to the egg yolks and mix well.

Carefully mix in the whipped egg whites, with a spatula until fully incorporated.

Start layering the tiramisu, by dipping each lady finger quickly into the coffee, then placing them in a single layer at the bottom of a rectangular deep dish (approximately 10" x 8").

Spread half of the mascarpone cream on top of the ladyfingers, and generously dust with the cocoa powder.

Repeat with a second layer of ladyfingers, and mascarpone cream, and finish with a final dusting of cocoa powder.

Cover with a plastic wrap and chill in the fridge for a few hours.

Alternatively, you can layer the tiramisu in glasses for individual portions.
Recipe Notes
* You may need only about 2 1/2 boxes of ladyfingers, depending on the size of your dish, or the size of the cookies. To be on the safe side, get 3 boxes.

** Don't be afraid to use a generous dusting of unsweetened cocoa powder - the bitterness of the coffee and cocoa is completely balanced and mellowed out by the sweet ladyfingers and mascarpone cream. In every bite, you should distinctly taste the chocolate, and the coffee layers. If you don't, use more cocoa powder next time.