Apricot almond galette – flakey, buttery crust, almond frangipane filling, and jammy sweet apricot on top complete this rustic summer galette.
This apricot almond galette has made a few appearances on our breakfast table lately.  Although normally this is served as a dessert, with maybe a dollop of ice-cream on top, it's a bit too heavy for my taste to eat at the end of a meal.   It is slightly sweet, it has a crispy buttery crust, and overall feels more like breakfast to me, so I've been serving it with a bowl of cold Greek yogurt on the side.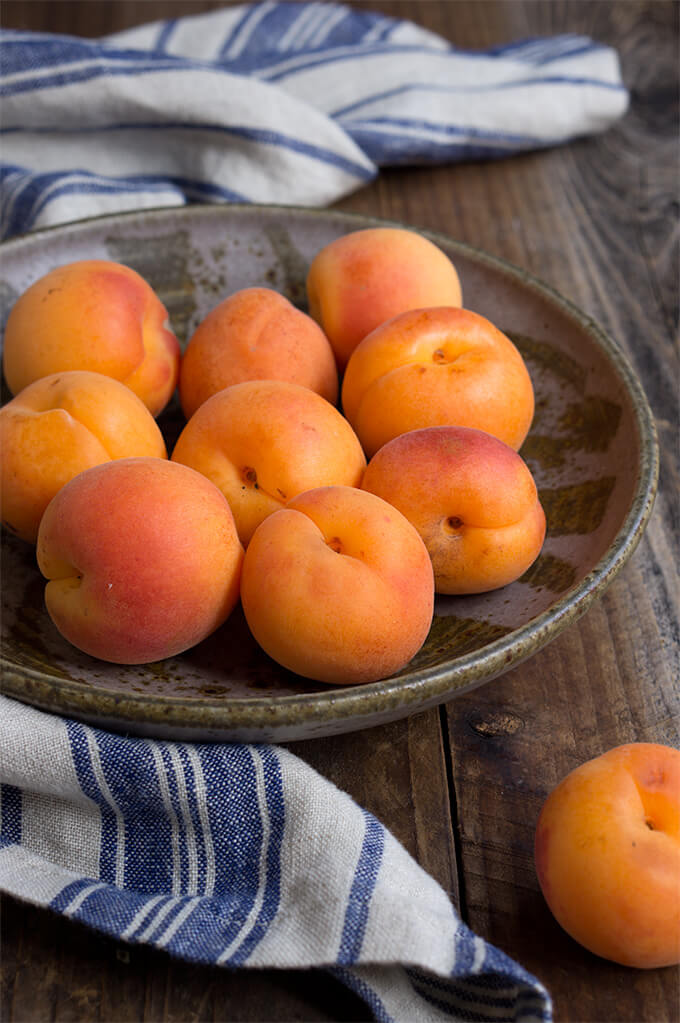 Apricots can be substituted with any seasonal fruit here like cherries, peaches, nectarines, plums, pluots, etc.  I had a box of slightly under-ripe apricots on hand, which seemed perfect for this purpose.
In this galette I also added almond cream to make it a bit more decadent.  It's based on the classic French frangipane pastry cream, but it's much lighter – both in sugar, and butter. It has a pronounced almond taste, and it's so good on its own, you have to be careful around it.  If it wasn't for the raw egg, I would spread it on a piece of toast by itself 🙂  You can make the galette without the almond cream – just arrange the fruit on top of the dough and sprinkle 2-3 tablespoons of sugar over them –  it will still taste delicious.
For the dough I used wholewheat flour, good quality salted butter (I like Kerrygold Irish butter , which is not only superior in flavor, but also has a higher fat content which makes it better suited for making pie crust) and a pinch of cinnamon.  To bind it all together use a few tablespoons of icy cold water.  I placed the flour, water and butter in the freezer for 15-20 minutes before making the dough to ensure everything is super cold, which results in a flakier crust.  The dough rests in the fridge overnight, and is ready to use the next morning.   If you decide to serve this on the same day, you can leave the dough in the fridge for 2 hours prior to rolling it and baking.
The recipe makes one 9-inch galette.  You can however, make a double batch of the dough, and freeze half for later use – it keeps in the freezer for a few months without its taste being affected.  Then when you need it, thaw it in the fridge.
The almond filling is also plenty, and will be enough for two galettes.  While assembling the galette, if the dough begins to feel sticky, place it back in the fridge for 10-15 minutes.  The idea is to stick the cold dough in the hot oven and quickly seal the fat inside. If the butter is not cold enough, it will melt faster and drip out of the dough while baking, and will result in a drier crust.
Apricot almond galette
Apricot almond galette - flakey, buttery crust, almond frangipane filling, and jammy sweet apricot on top complete this rustic summer galette.
Course:
Breakfast/Dessert
Ingredients
For the dough:
1

cup

wholewheat flour

4

oz

salted butter

2

Tbs

coconut/brown sugar

3-4

Tbs

ice cold water

pinch of cinnamon

2-3

Tbs

sliced almonds

(for the crust)

2-3

Tbs

coarse sugar

(for the crust)

1

egg yolk

(for brushing the crust)
For the almond cream:
2/3

cup

toasted almonds

2

Tbs

raw honey

2

Tbs

butter, softened

1

egg

1/4

tsp

almond extract

1

tsp

vanilla extract
For the filling:
6-7

large apricots, sliced
Instructions
To make the dough:
Place the flour, sugar and cinnamon in the bowl of your food processor, pulse a few times.

Add the butter and pulse about 10-12 times, or until the butter is broken down to pea-size chunks.

Add the water, 1 Tbs at a time, and pulse a few more times. The dough will be very crumbly but if you pinch it, it should stick together. If it's too dry and doesn't stick together, add 1 more tablespoon of water.

Remove from food processor to a floured surface, and quickly form into a ball, then flatten to a disk, wrap in plastic foil and put in the fridge for as little as 2 hours.
To make the almond cream:
Place the roasted almonds in a food processor, and grind to a course sand consistency.

In a small bowl, mix the egg, with the honey, butter, vanilla, and almond extract, pinch of salt, and the ground almonds until fully incorporated and resembling a creamy paste.
Assemble the galette:
Roll the dough to a circle, about 9 inches in diameter, and 1/8 inch thick - it doesn't have to be perfect, in fact, rough edges make for a yummier crust.

Spread 4-5 Tbs of the almond filling on top, leaving 2 inches from the edges.

Arrange the cut apricots on top of the filling, and fold over the crust edges.

Beat one egg yolk with a tsp of water, and brush the crust with the egg wash. Sprinkle sliced almonds, and course sugar on top. If your fruit is not very sweet, sprinkle some sugar on top of it too.

Bake in a 400 °F oven for 30-40 minutes.

Let it rest a bit, and serve while warm with a side of cold yogurt, or vanilla ice cream (if serving as a dessert).
Recipe Notes
The recipe makes one 9-inch galette
If using salted butter for the dough, there is no need to add salt. If using normal sweet butter, add a pinch or two of salt to the dough.