Have you made your Valentine's dinner reservations yet? If you are like me, and just decided to do so, you are probably already late. Every nice place I checked, is fully booked. Maybe it's just us, but it always seems like a miracle to find a quiet, cozy spot where you can enjoy a romantic dinner with your sweetheart on Valentine's day. The scenario is pretty much the same every year – we go out last minute, wander around in search for a nice restaurant, realize that every place is packed to the brim, and is a far cry from romantic, and either end up at Starbucks for a late decaf latte, slightly annoyed but somewhat resigned (we knew this would happen), or we go home when it's too late to cook anything.  We really should just give up, or make that reservation, I don't know – 2 months in advance?
So what's the next best thing you can do if you forgot to book your favorite restaurant? You can cook a romantic dinner for two of course (which may even be more romantic), with a bit of planning ahead, and a glass of wine to help you along while you cook.
Today's post is a quick and easy dinner for two, that looks like it came from a fancy restaurant and tastes just as good.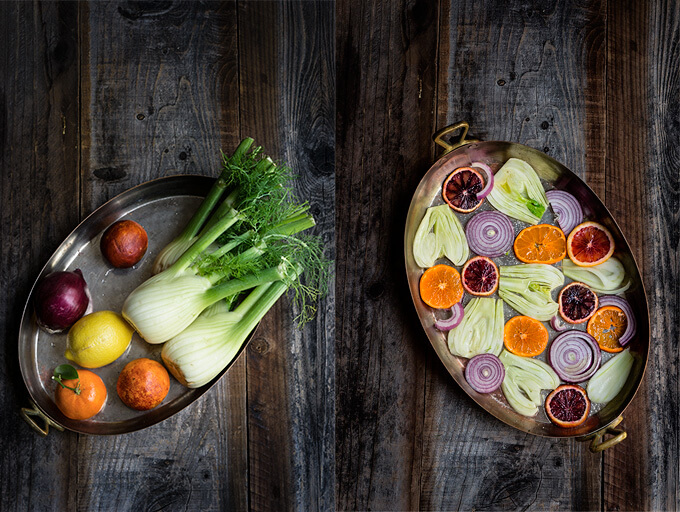 The idea of roasting fennel and citrus was born from this cookbook –  Crossroads: Extraordinary Recipes from the Restaurant That Is Reinventing Vegan Cuisine
, I accidentally came upon a few months ago.  I was waiting for my mushroom foraging tour to begin, at a resort's mini bookstore, and I randomly picked a book to pass the time.  I was immediately immersed in its beautiful photography and quite unusual recipes. I didn't buy the book but I remembered an idea I read in it – roasted fennel, and clementines in coconut oil. That stuck with me, as I am a big fan of both fennel and coconut. I had never before roasted citrus, especially with the rind, as the recipe instructed, so that was no less intriguing.
A few months later, I gave it a try and used mostly blood oranges in place of clementines, both for their striking color and unique flavor. Blood oranges have a more complex, berry-like aroma and they are less sweet than regular oranges, which makes them perfect for a savory dish. I thought the roasted veggies and citrus combo would be the perfect canvas for some juicy, roasted white fish, like rockfish or red snapper.
And it was. I threw a clementine together with the blood oranges for a more layered citrus flavor. When roasted, both blood oranges and clementines crisp up, and loose almost all the bitterness of their rind. The caramelized fennel with its barely-there anise flavor, and the roasted sweet red onions go so wonderfully with the bright citrus taste of the blood oranges and clementines, and what better accompaniment to seafood than citrus!

You can serve the dish topped with lemon juice and lemon zest, and the fronds saved from the fennel bulbs for a pretty presentation.   The whole dish comes together in about 40 minutes (most of which is baking time). It's a satisfying meal but it's light enough to leave some space for a nice dessert (definitely something with chocolate for me) after.
Don't forget to pour yourself a glass of wine while you prepare the dish, to help you get into a Valentine's mood!
Baked rockfish with fennel and blood oranges
Ingredients
3 baby fennel bulbs, or 1 big one
1 red onion
2 blood oranges + 1 clementine
3 tbs coconut oil
2 rockfish fillets
2 tsp crushed fennel seeds, divided
juice and zest from 1 lemon
Instructions
Cut the tops and bottoms of the fennel bulbs, and then cut vertically into ¼-inch thick slices. Reserve the fronds for later.
Cut the red onion horizontally into ¼-inch slices.
Cut the blood orange and/or clementines into thin slices
Melt the 3 tbs of coconut oil and pour over the fennel, onion and oranges
Spread the vegetables into a single layer on a roasting pan, sprinkle 1 tsp of crushed fennel seeds, a pinch of salt and pepper, and roast in a 400 oven for 20 minutes.
Salt and pepper the fish fillets liberally, then sprinkle with the other 1 tsp of crushed fennel seeds.
Lay the fish fillets over the vegetables and return to the oven for another 10-15 minutes or until the fish is cooked through.
Serve with a splash of lemon juice, and lemon zest, and the reserved fennel fronds (or use chopped dill)